How to Create a Gallery Wall
How to Create a Gallery Wall
Gallery walls are a beautiful, personal way to add character to your home and fill blank wall spaces. It's easy to design a gallery wall with your favorite art and photos, 3D elements, textile hangings and more. And the best part is that you don't need a lot of space to make it work. Read on to discover our best gallery wall ideas and top tips for how to create a gallery wall that feels fresh and modern. The only rule? That there are no rules.
Shop All Wall Decor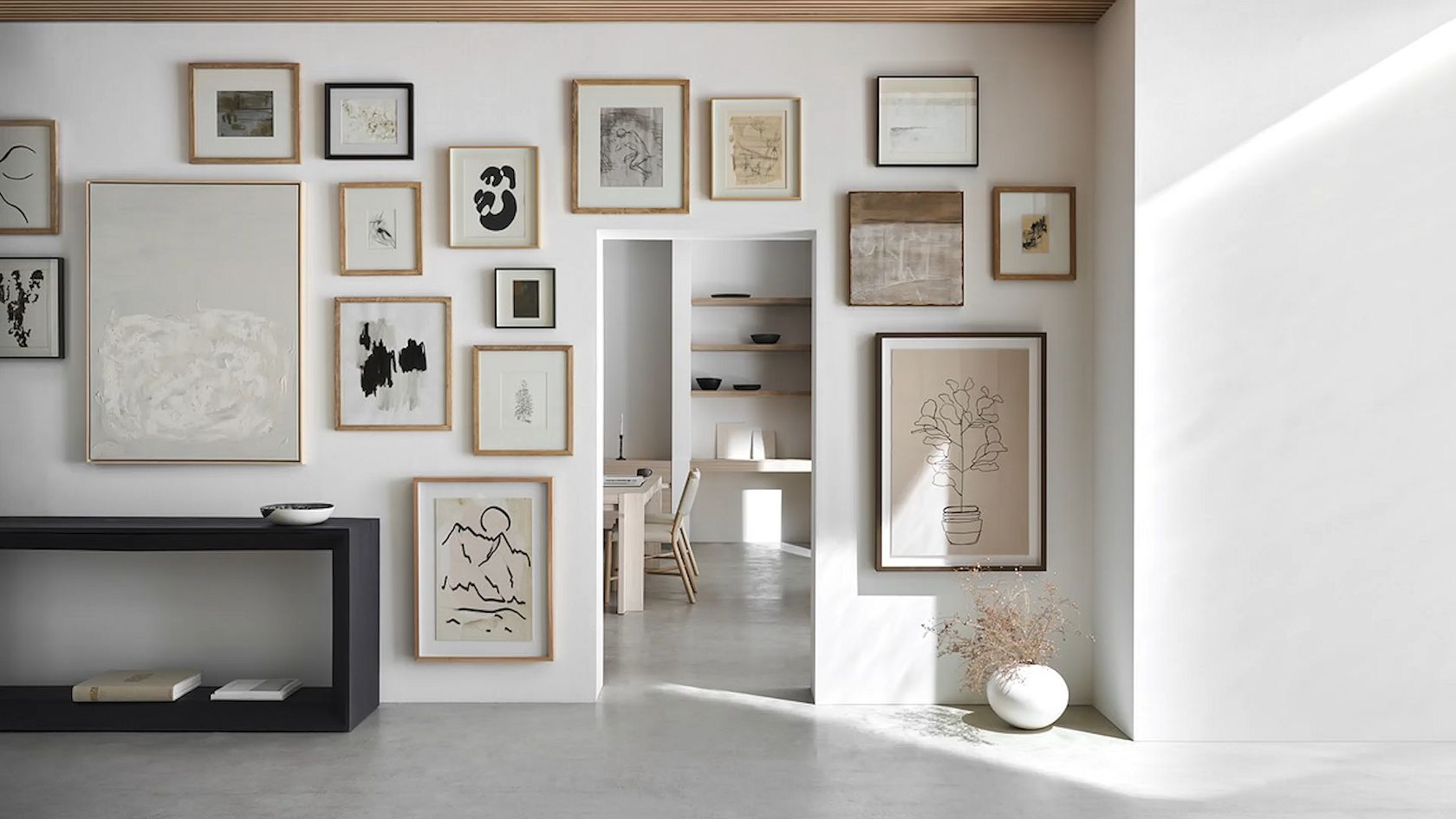 what is a gallery wall?
A gallery wall (or photo wall) is a curated collection of wall art hung in a grouping. To make a gallery wall, consider using framed wall prints and photos, memorabilia, paintings, sculptural objects and more. It's an easy way to add a lot of personality to any room—living room, dining room, even kitchen or bathroom. Gallery walls also bring visual interest to unexpected spots like an entryway or powder room.
Whether casual, eclectic or artfully modern, gallery walls are suitable for any style decor. Gallery or collage walls make use of vertical space by adding an extra layer of color, texture and dimension to the room. When it comes to arrangement, the options are endless. Keep scrolling to learn more about how to make a gallery wall and the different ways you can design it.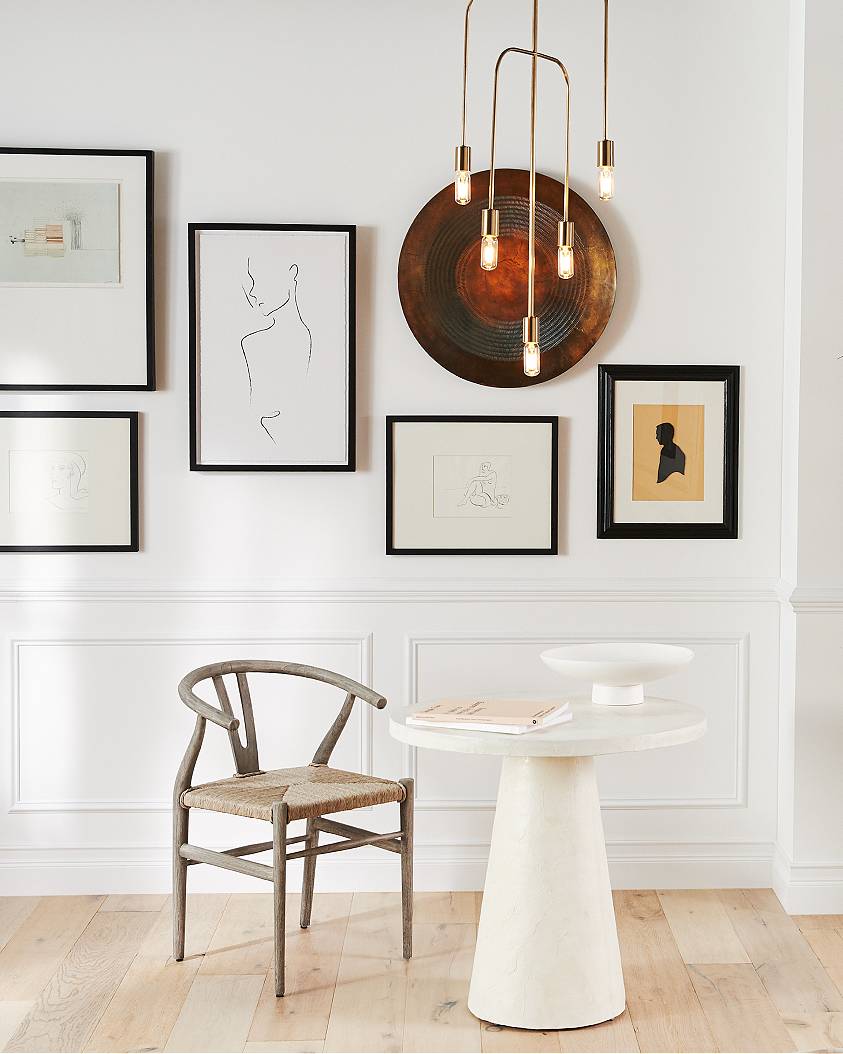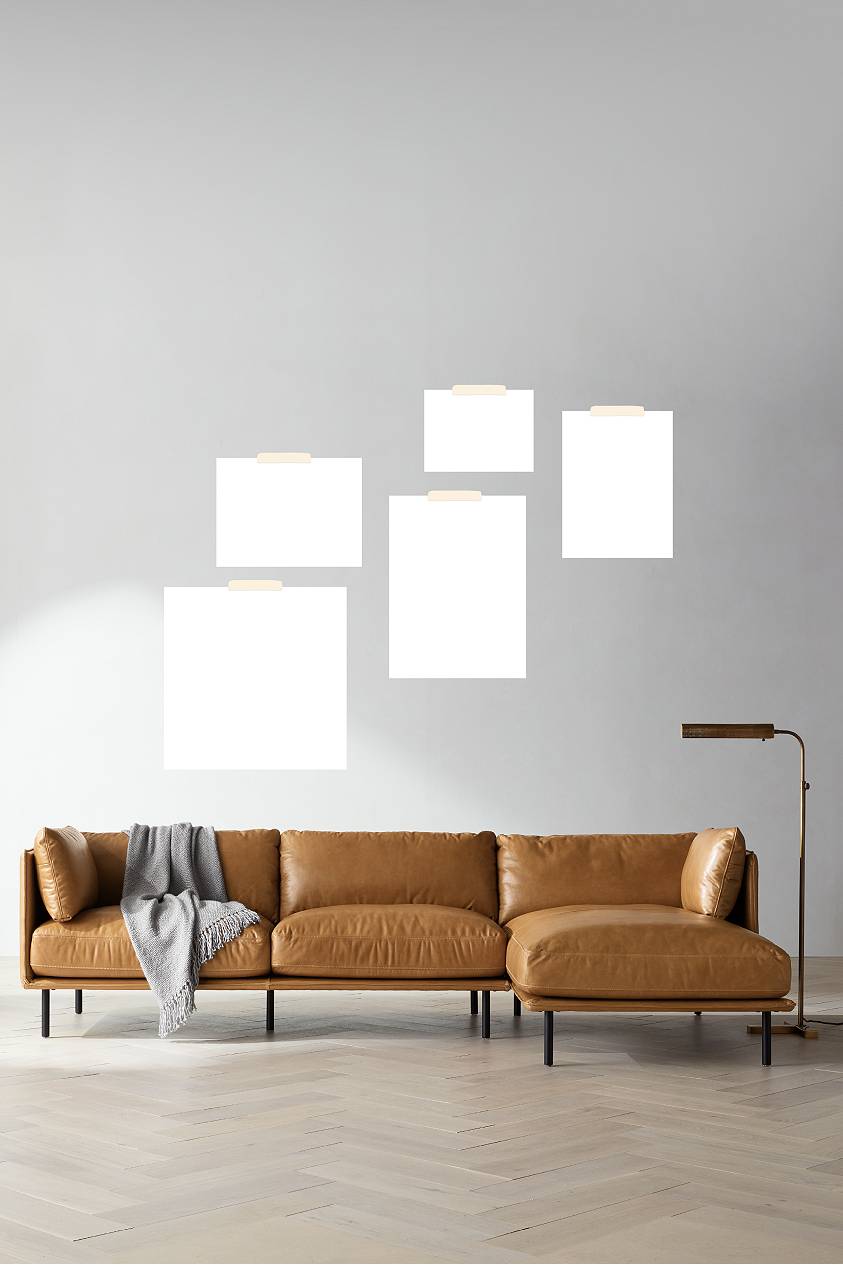 how to design a gallery wall layout
It takes some planning to achieve the best gallery wall layout. When planning a gallery wall, we like to lay picture frames for photos out on the ground to get an idea for what the arrangement and spacing will look like on the wall. Start with the largest piece in the middle and add more pieces around it, keeping an eye on the balance of materials and color and visual flow from one piece to the next. Then, create visual interest by designing a gallery wall layout with sizes that vary from large to small. In addition, consider switching up how the frames are placed—vertically or horizontally.
Another technique when designing a gallery wall configuration is mapping out the arrangement of frames on the wall using paper. Trace all of your frames onto a large piece of Kraft paper, then cut them out and tape them to the wall. It's easy to move them around until you get the balance you want, then use the paper template as a guide for where to place your nails and hanging hardware. We suggest placing wall art at eye level, about five feet from the floor. If you have higher ceilings you can get away with arranging your gallery wall higher.
living room
gallery wall ideas
Level up the vibe of your home (and get share-worthy results) with a modern gallery wall in the living room. Not only will it help to create a focal point, it can also act as a storyboard of your life.
Need some tips or ideas for a gallery wall? When hanging a photo wall keep in mind, large picture frames look good with a little more breathing room, while small photo frames tend to look best when grouped more closely together. Hanging your gallery wall designs may feel like a big commitment, but once you begin you'll start to see a natural pattern emerge. For more style inspo, read on to explore picture wall ideas for the living room.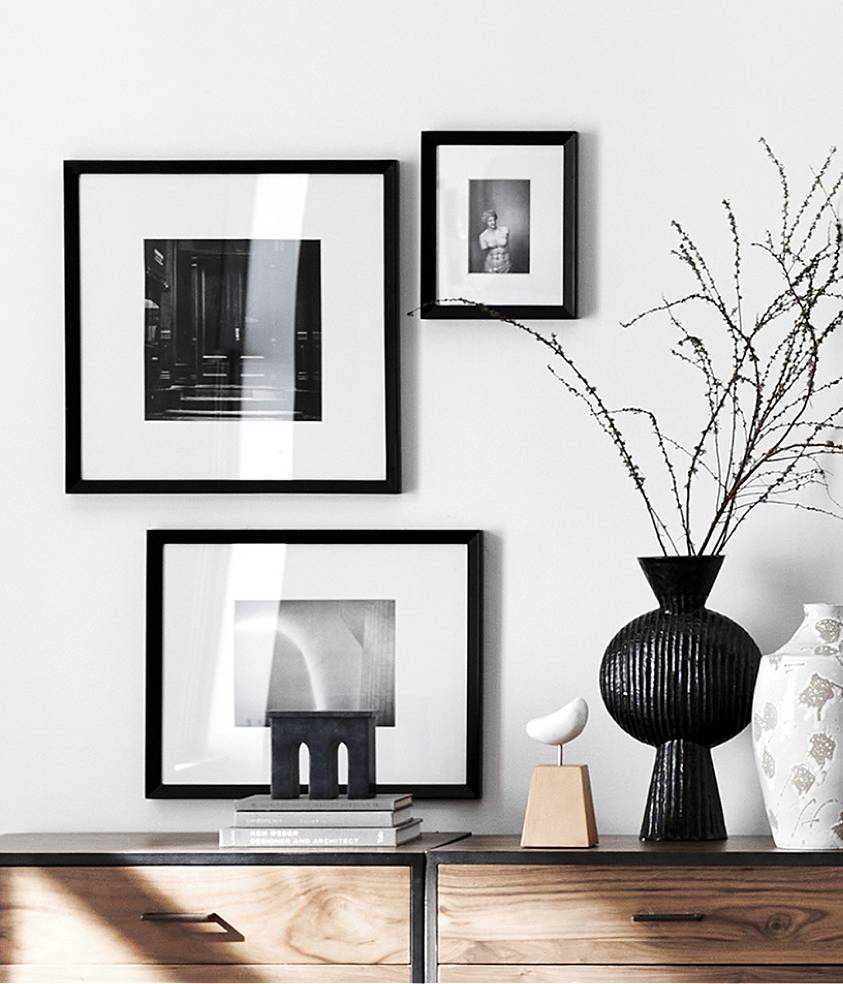 Layout Ideas
shelf gallery wall
Long display shelves add dimension to your walls and make the perfect perch for your beloved prints. It's a great option for those not ready to commit to a hammer and nails. Consider creating a gallery wall layout with different sizes, such as 8"x10" frames and a couple of 3"x3" picture frames.Mixing different sizes and colors, layer your photographs or prints on the shelf. Change it up every once and a while to keep your living room photo wall looking fresh. Use the extra space to showcase everything from your favorite collectibles to a neat stack of books.
symmetrical gallery wall
Make a pleasingly uniform statement with this perfectly spaced configuration. One wall art idea is to use pieces that are all (or nearly) the same size to create a sense of visual cohesion. Try using a gallery wall layout with sizes such as 11"x11" or 11"x14" picture frames for a larger eye-catching display. For added sophistication, use a series of photos or art with a common thread to create the best gallery wall for the living room.
anything-goes gallery wall
This layout thinks outside the box with a gallery wall with different frames, sizes and shapes. Either create an unconfined grid or bring it all together with a cohesive color palette—we love the look of black picture frames or photo frames in bronze or white tones. Meld casual with formal by adding photographs or three-dimensional elements into the mix to create an interesting dynamic. Try filling the smaller open spaces with 3"x3" or 4"x6" frames.
entryway & hallway gallery wall ideas
One entryway wall idea is to utilize large open wall spaces for treased mementos, wall sculptures and more. It curates a meaningful hallway or entryway gallery wall that will delight your guests and remind you of people and places you love. Mix and match different pieces to create a look that gives the right balance of personality and style.
As you begin to hang your pieces, don't forget to take a step back from time to time to get a sense of perspective. We also recommend using a few pieces of adhesive on the back of frames to prevent them from moving out of place.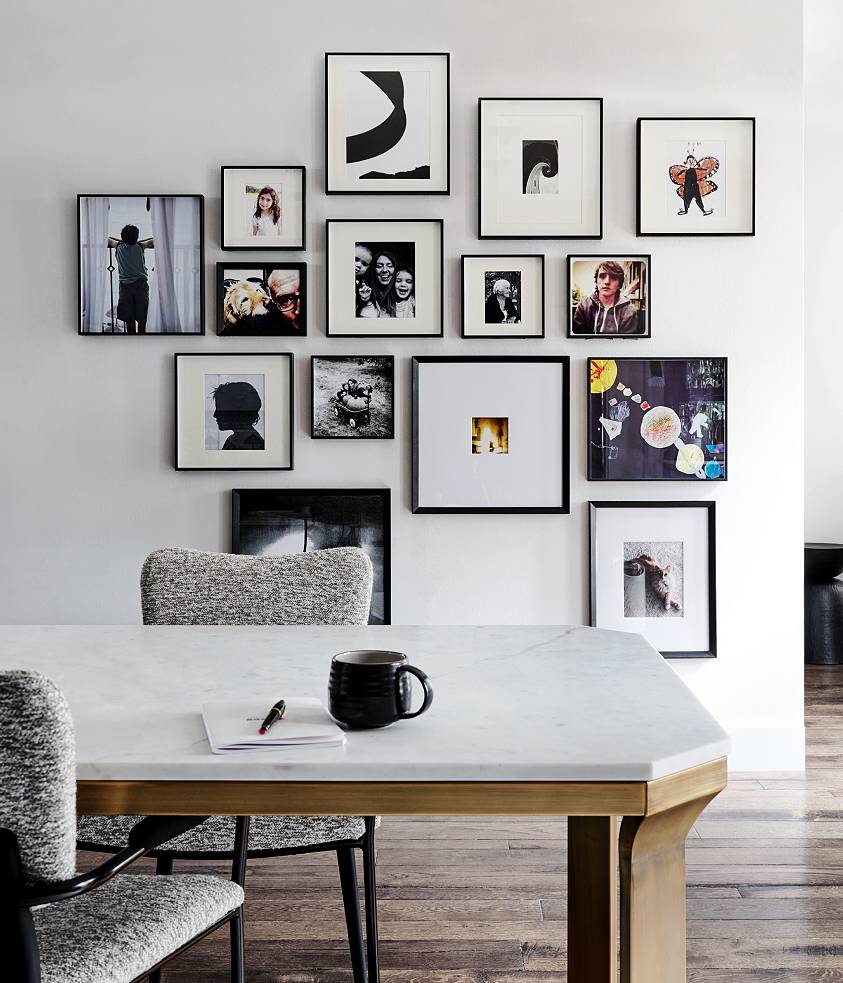 Layout Ideas
One Long Row
One hallway gallery wall idea is to line your favorite photographs in a long row. This will work best when using frames that are identical in size and color—we love the sleek look of black and white photos in 11"x11" metal picture frames. For added visual impact, we recommend using a level to keep the pictures in a perfectly straight line.
The Classic Grid
Keep it bold, modern and simple with a gallery wall arranged in a neat grid. Similar to one long row of frames, you'll want to make sure you're using ones that are identical in size and color for the biggest impact. Try grouping together 8"x10" picture frames for a simple, cohesive look. To create a hallway photo gallery, leave some negative space in between frames to give a sense of airiness.
Angular Arrangement
Build a gallery wall by placing picture frames in your stairway. It's an easy way to breathe new life (and a little bit of coziness) to an often-overlooked space. These types of vertical gallery walls draw your eye upward, giving the appearance of taller ceilings. Plus, it's a great way to showcase your favorite family photos and personal treasures. For this layout, you'll probably want to use a mixture of frame sizes from 5"x7" frames to 8"x10".
wall art for gallery walls
Choosing wall art is all about trusting your eye. If you love a piece for its color, subject matter or any reason at all, then it works. Look around your house for wall art ideas, such as decorating with memorabilia or personal elements. Or, create a kids' art gallery wall to display favorite art projects that add texture and depth.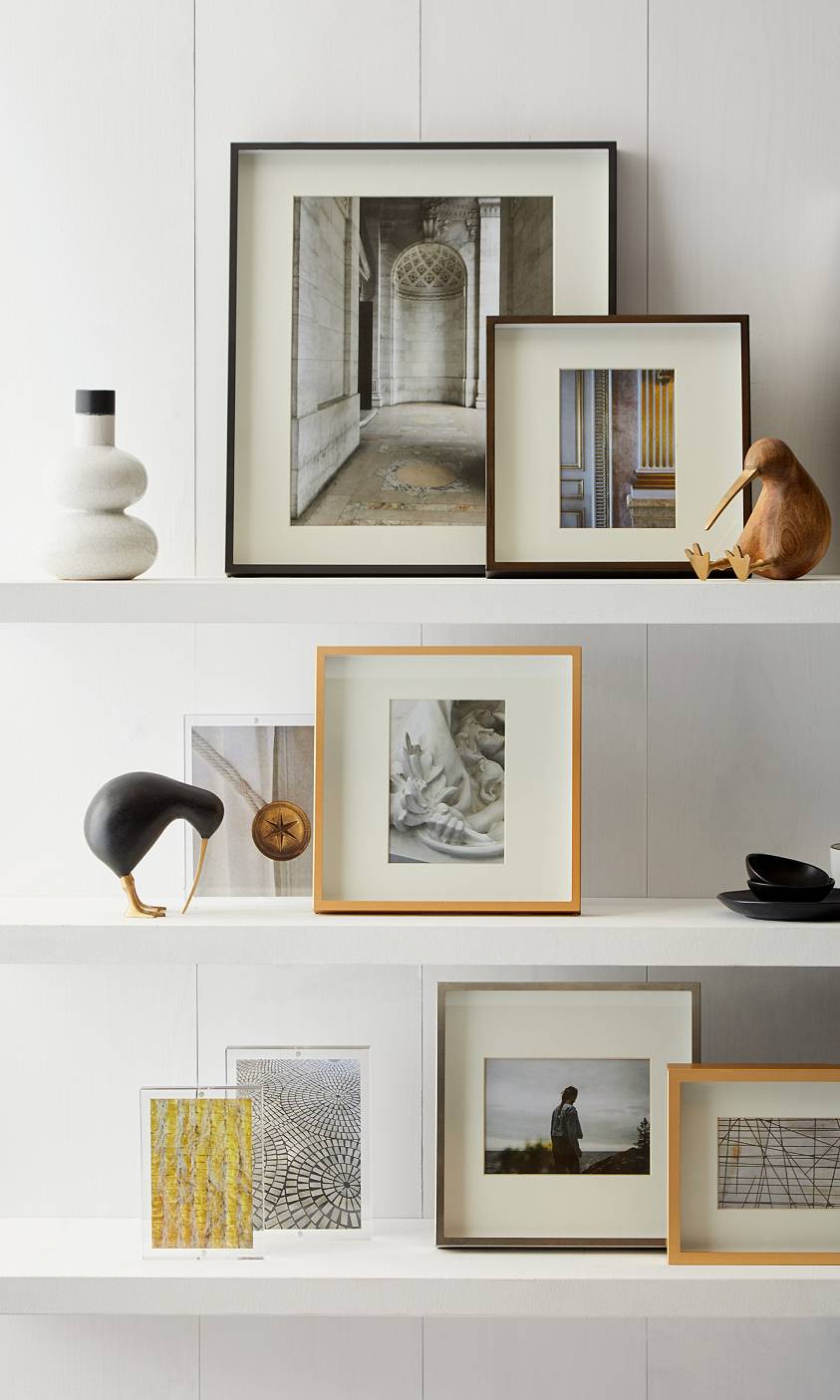 frames for photo
gallery walls
Choosing the right frames for your photo gallery wall depends on the style of your space. Using different sized and shaped frames will give you a more playful and eclectic photo wall in the living room or serve as stylish decor above the bed. For a sophisticated feel, keep your gallery wall frames and color palette consistent.
Metal frames
Matted, metal frames have a secret superpower: they can turn your kids' doodles, finger paintings, cartoons and more into gallery-worthy pieces.
Wood frames
Simple and natural wood frames hung with lots of negative space, scaled-up sizing and a cohesive palette give off an airy, modern vibe.
Gallery Clips
This easy-to-use option is ideal for swapping in new unframed artwork or pictures. They look great on their own and mix in wonderfully alongside framed artwork.
explore frame sizes
100% free design services for your
projects big & small. Let our pros
help transform your space.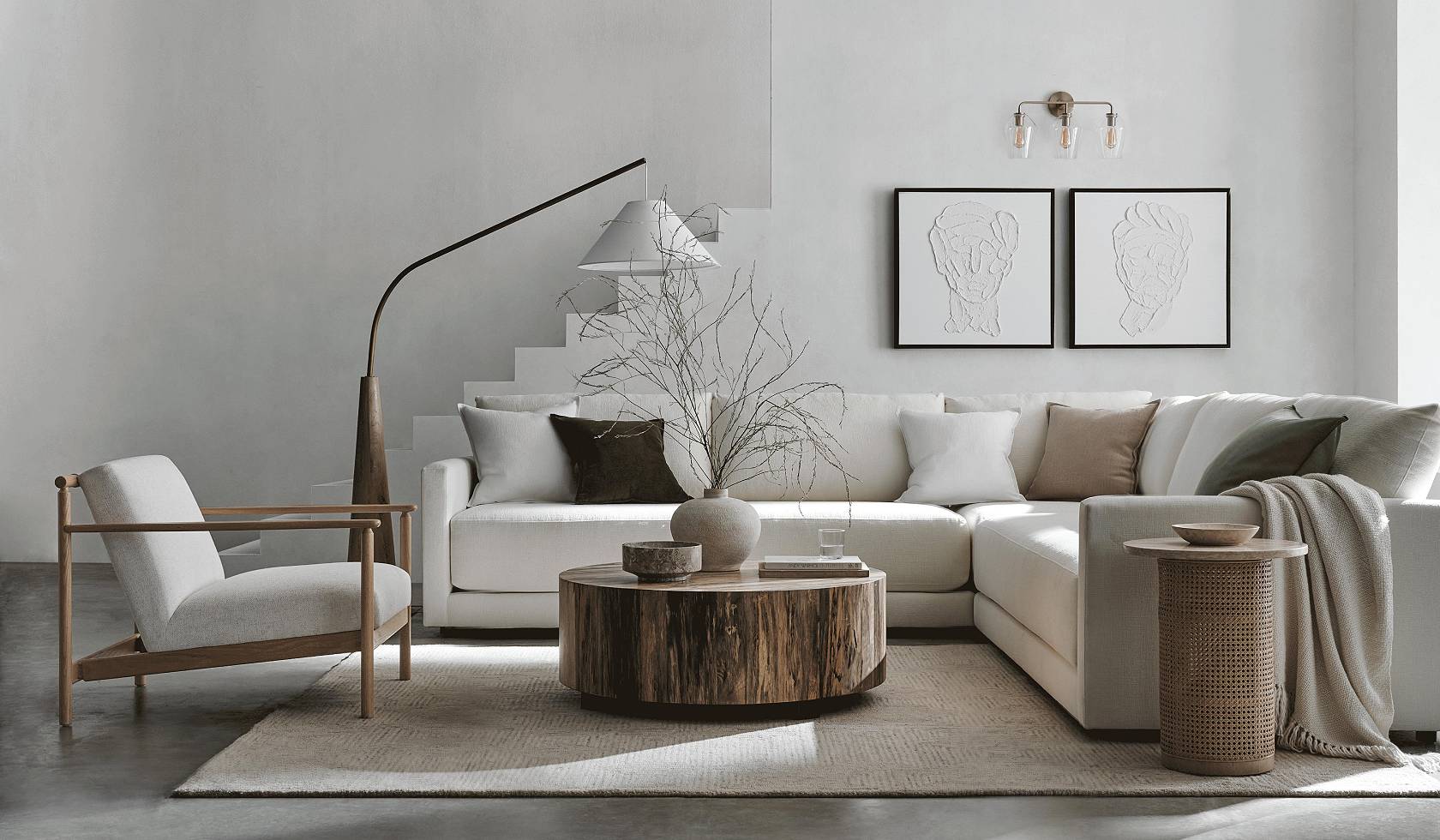 expert answers to your gallery wall questions
CAD 399.00 - CAD 1,799.00

Clearance CAD 71.99

reg. CAD 119.95

Clearance CAD 499.63

reg. CAD 539.55

Clearance CAD 134.89

reg. CAD 154.85

Clearance CAD 249.97

reg. CAD 499.00

Final Sale

CAD 329.00 - CAD 1,199.00

Clearance CAD 499.63

reg. CAD 539.55

Clearance CAD 134.89

reg. CAD 154.85

Clearance CAD 499.59

reg. CAD 539.55

Final Sale

Clearance CAD 134.87

reg. CAD 154.85

Final Sale

Clearance CAD 299.97

reg. CAD 599.00

Final Sale

CAD 449.00 - CAD 1,499.00
Shop by Category